Here at University Hospitals of Leicester we value our trust grade doctors and take your development and growth very seriously. We have at least 250 non training grade doctors in the trust and work hard to provide thorough inductions, educational resources and communications for all of them. Please browse each of the tabs below.
Induction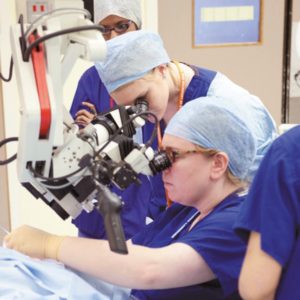 When you start work here with us you will have an induction to Leicester's Hospitals and the department you will be working in. We know that many of our LEDs are also new to the NHS and UK therefore if this is your first post you will have a 2 week supernumerary period where you will shadow colleagues, learn relevant guidelines and familiarise yourself with the department before commencing in your formal role.
The junior doctor administrator team in your department will be a key source of support and information for you.  We have an "induction" guide available for you to help you navigate your way  smoothly in your new job.
New to the NHS and UK (International Medical Graduates)
Moving to a new country can be challenging as well as exciting. To help with the transition, we recommend the following
Sign up to the GMC Welcome to the UK course. This is held via Microsoft Teams regularly and is a good opportunity to familiarise yourself with working in the UK NHS as well as a chance to meet and network with other doctors from abroad. The link is https://www.gmc-uk.org/about/what-we-do-and-why/learning-and-support/workshops-for-doctors/welcome-to-uk-practice.
Register with a GP for any health care needs.
Consider joining a medical defence organisation,
Build up your social network. We have a locally employed doctor Whatsapp group. To join this, email TrustGradeDoctors@uhl-tr.nhs.uk with your name and phone number. We advertise teaching events available to you on this group.
Consider joining the "doctors mess" for £10 per month you will have access to social events, an area to rest and relax in each hospital. You can find out more about the mess here.
More information can be found in the useful resources page.
E portfolio access and Learning opportunities
UHL supports all of our locally employed doctors with a Horus ePortfolio. We appreciate that whilst the Horus ePortfolio provides a space to record educational activities, some doctors may wish to purchase access to the ePortfolio relevant to their specialty and grade. If you wish to access the Horus ePortfolio please email Julie Jackson, Education Administrator, julie.jackson@uhl-tr.nhs.uk with the name of your supervising consultant and which department you are working in.
At the start of each post we recommend planning your personal development plan and setting yourself goals to work towards which you can record on your e portfolio for example undertaking an exam, holding a teaching session. Try and use the SMART template method of goal setting . they should be Specific, Measurable, Achievable, Realistic, Time bound.
The e learning for health care e-LfH (please link to e learning website Home – e-Learning for Healthcare https://www.e-lfh.org.uk by clicking on e-LfH) website offers hundreds of free e learning modules we recommend setting up an account and you can complete these at a pace and time to suit you.
We host live streamed monthly evening medical updates at the Leicester Royal Infirmary lecture theatre https://learning.rcpe.ac.uk/ You will need register beforehand to obtain CPD points and a certificate.
Induction resources
Video learning on Appraisal and Revalidation
Teaching & Education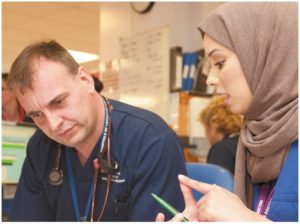 At UHL we are particularly invested in teaching and developing all members of staff no matter their grade or experience.
– Grand Round takes place on Friday lunchtimes via Microsoft Teams. A variety of different topics are discussed each year and there is usually an informative Q&A session or debate at the end.
– Departmental teaching varies between each department in the hospital. When you join your new team we would advise finding out when and where their teaching is as soon as possible as it is often very helpful for doing that speciality day to day.
– We also have a dedicated Trust Grade teaching programme. This runs on Tuesday lunchtimes at 13:00 for 45-60 mins and covers a wide range on topics. Topics are often suggested by our trust grades so don't be shy if you want something taught!
Shortly we will be publishing timetables for evening and weekend seminars that have proved extremely popular in the past. This includes courses on interview techniques, communication skills and simulation training.
Useful resources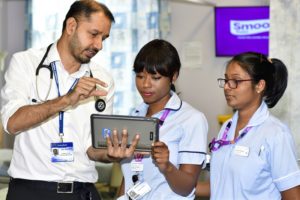 WhatsApp
Please join our whatsapp group. This is a great way to receive up to the minute information and also to ask any questions you have to a large group of people who probably know the answer! Whats the best way to link this? Please contact 07773 625242 to be added to the group.
Trust grade email inbox. Please drop us an email so we can ensure you are on our mailing list. This helps us keep you up to date on what teaching sessions and resources we are developing.
Padlett Link
This is an online pinboard which allows easy access to tons of useful documents, videos and education news for the trust grade programme
https://padlet.com/nicolettemorgan/v5c13donbgglh8mp
Dr Toolbox
This is the app used at UHL to help make on calls and day to day working easier. It contains trust guidelines, contact numbers, information for requesting tests, radiology information, survival guides and much more.
YouTube
The department has our own YouTube channel with short clinical and case based videos designed to improve learning and understanding of a range of topics. Please subscribe and you will get automatic updates when new material is released.
https://www.youtube.com/channel/UCwYNhsIvAWG2nXqoWgJ8GTg 
Drop in Sessions
The department of education offers drop-in sessions to come and meet with a member of our team. These can be done face to face or on Microsoft Teams and gives an opportunity to discuss things like career planning, wellbeing or anything else not covered by induction. Please use the link below to fill out the google form and a member of our team will get in contact:
https://docs.google.com/forms/d/e/1FAIpQLSf_Cpsah5hEBo_54R6yg5MOrnp2SI9c6c7JhLI2SOmi3En29Q/viewform?usp=sf_link
For all government information on topics like taxes, driving and childcare visit https://www.gov.uk/
For more local Leicester focused information please visit https://www.leicestershire.gov.uk/
Accommodation
UHL has hospital accommodation available at both the Leicester Royal Infirmary and at Glenfield. Rates are very competitive and moving in is very simple compared to the private sector as you will not need to provide references/guarantors and need only give 1 months payment as an upfront deposit. It can also be done very quickly. If you are based at the Leicester General Hospital you can still apply for accommodation at the LRI. UHL has a free bus called the hopper that provides transport between all 3 sites and this runs regularly.
There are several options available when applying for hospital accommodation, ranging from flat shares up to self-contained three bedroom flats. However the self-contained flats have a large waiting list and it will be unlikely that one will be available immediately. The self-contained flats are also more expensive that the single room shared flats, and priority will be given to families over single applicants. To apply simply search "hospital accommodation" on insite.
If you do wish to rent privately, you can use Rightmove to search for properties in Leicester; http://www.rightmove.co.uk. There is a guide to renting available on the Rightmove website; http://www.rightmove.co.uk/renter-advice/.
Registering with a GP Practice
It is extremely important to register with a GP as soon as possible to allow quick access to healthcare services. Remember you need to look after your health too. To search for a GP practice follow this link https://www.nhs.uk/Service-Search/GP/LocationSearch/4 and enter your postcode (after you have arranged accommodation).
Opening a Bank Account
Please see link to Citizens Advice, which also contains a lot of information about opening a UK bank account; https://www.citizensadvice.org.uk/debt-and-money/banking/getting-a-bank-account/.
Schools in Leicester
If you have children who will be moving to the UK with you and will need a place at a school in Leicester then please see the following links for more information:
Leicester City Council – School Admissions
https://www.leicester.gov.uk/schools-and-learning/school-and-colleges/school-admissions/
Leicestershire County Council – School Admissions
https://www.leicestershire.gov.uk/education-and-children/schools-colleges-and-academies/school-admissions
Welcome to Leicester Guide
In this guide is a comprehensive overview of everything Leicester has to offer! Included is information about useful telephone numbers, shopping, eating, supermarkets, places of worship, transport and much more. The following website link has plenty of ideas and information about things to do in the Leicester and Leicestershire;
Career Development
.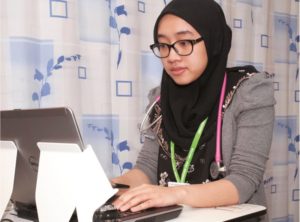 Career progression in the NHS is a worthwhile and rewarding process but can be a little trick to navigate especially if you are new to the system. For a full list of all training pathways, please click here. The NHS careers website (https://www.healthcareers.nhs.uk/explore-roles/doctors) has more information about each specialty.
If you are interested in a specific career speak to your educational supervisor who can help guide you further. We also offer 1:1 sessions with our education team when you join where we can also discuss career options and how to pursue them. Finally, the royal college websites are valuable resources with information about the various areas of clinical practice.