CMR Robotics Surgery Workshop


8th December 2023 - 17th December 2023




8:00 am - 5:00 pm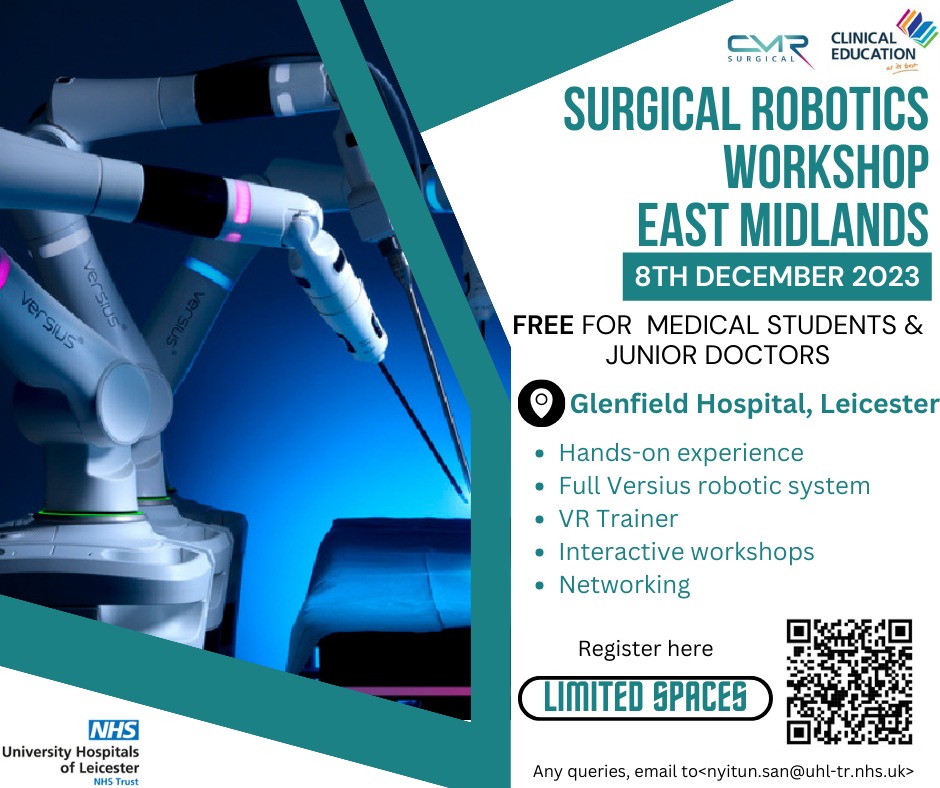 Explore the Future of Surgery: CMR Robotics Surgery Workshop
Dear Medical Students and Junior Doctors,
Embark on a transformative journey into the cutting-edge realm of robotics surgery! We are thrilled to extend a warm invitation to you for the CMR Robotics Surgery Workshop, an unparalleled opportunity to delve into the forefront of surgical innovation.
What to Expect:
✨ Immersive Learning Experience: Engage in hands-on sessions on full Versius robotic system and Virtual Reality Trainer in collaboration with CMR robotics surgery. Explore the latest advancements and witness the seamless integration of technology with surgical precision.
✨ Interactive Workshops: Elevate your skills through interactive workshops designed to enhance your understanding of robotics surgery. From basic principles to surgical techniques, gain insights that will shape the future of your surgical career.
✨ Networking Opportunities: Connect with like-minded peers and establish valuable professional connections. Share experiences, exchange ideas, and build a network that extends beyond the workshop.
✨ Access to State-of-the-Art Technology: Get up close and personal with the most advanced CMR robotics systems. Gain hands-on experience with the latest tools and technologies that are revolutionizing the field of surgery.
️ Event Details:
Date: 8th December 2023
Time: 1 hour slot for each delegate (9am-5pm)
Venue: Undergraduate Centre, Clinical Education Centre, Glenfield Hospital, Leicester (LE3 9QP)
Who Should Attend:
Medical Students
Junior Doctors
️ Registration:
Secure your spot now by registering at [https://forms.gle/3XsaFiNhrw7uocBp8]. Limited seats available! Up to 30 delegates
For inquiries, please contact [nyitun.san@uhl-tr.nhs.uk]
Location
Address:
Clinical Education Centre, Glenfield Hospital
, Groby Road,
Leicester
,
LE3 9QP
,
United Kingdom